Maersk's 2nd quarter results laid bare the failure of its integrator strategy to deliver while allowing its rivals to snatch away liner market share where earnings remain superior to any quarter prior to 2020. Although Maersk's full year earnings guidance painted a dismal market outlook for the 2nd half of 2023, the liner market barometer has turned positive with the SCFI extending its gains for a 3rd consecutive week on the back of the strong transpacific market performance.
Whilst rates to Europe and other regional markets are more shaky as they slipped from the prior week's gains, the transpacific market will remain strong through August with peak season demand remaining steady and high capacity utilisation allowing carriers to push for a mid-August hike. Linerlytica's headhaul volume index continues to show a positive trend, with early port throughput volumes in July mirroring the volume recovery although overall capacity utilisation across key headhaul routes remain below the average of the last 2 years.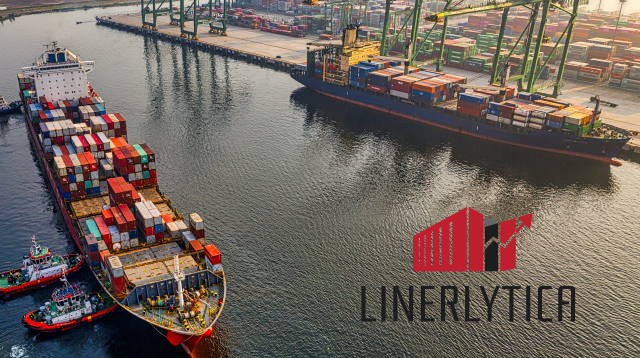 Failure to protect Ocean market share cost Maersk over $4Bn in foregone profits
even as integrator strategy fails to deliver
Maersk's failure to protect its liner market share in the last 3 years has cost it dearly, as it gave up at least $4 Bn in foregone profits that Maersk would have been able to generate if it had maintained its global capacity share at 18% instead of the current 15.5%. In its stead, Maersk has chosen to invest almost $10 Bn of incremental capital in its logistics services since 2020 as it pivoted to the logistics integrator strategy. However, in its latest 2nd quarter financial report, Maersk's logistics business generated EBIT earnings of only $115m on invested capital of $10.5 Bn for a quarterly ROIC (before tax) of just 1.1%. Total invested capital in the logistics segment has risen from $0.8 Bn at the beginning of 2020 to $10.5 Bn after a series of well publicised acquisitions that have consistently under-delivered with earnings that are well short of its cost of capital.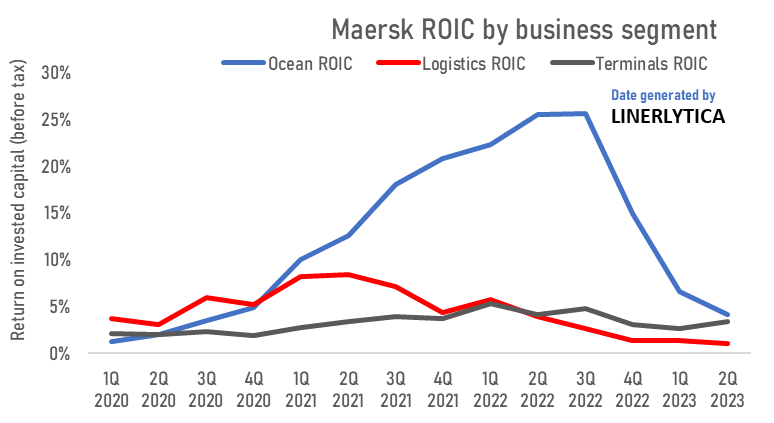 The dismal performance of Maersk's logistics business pales in comparison to its liner and terminal segments, both of which have received little or no new capital investments in the last 3 years.
The Ocean business generated
EBIT earnings of $1.2 Bn on invested capital of $29 Bn for a 4.1% ROIC,  while its Terminals recorded EBIT earnings of $269m on invested capital of $7.8 Bn for a ROIC of 3.4%.
Weekly/Monthly Market Pulse: US$1,500/US$1,800 per year