While global attention is focussed on Russia's renewed blockade of Ukrainian ports in the Black Sea, container volumes at Russia's own ports have rebounded sharply, drawing in over 200,000 teu of incremental containership capacity since the end of last year. The strong Russian demand has been one of the few bright spots for the container shipping market this year, with over-capacity driving down freight rates across almost all main trades.
The SCFI renewed its slide last week, but there is growing optimism for the 1 August rate hike especially on the transpacific where utilisation has been very strong. However, rising capacity on the Asia-Med route has hurt rates while the planned Asia-North Europe rate increase remains on the balance.
Although the number of idled ships is inching upwards slowly, it only accounts for 0.4% of the total fleet with more capacity withdrawals needed to support and sustain the rate hikes before the slack season starts in October.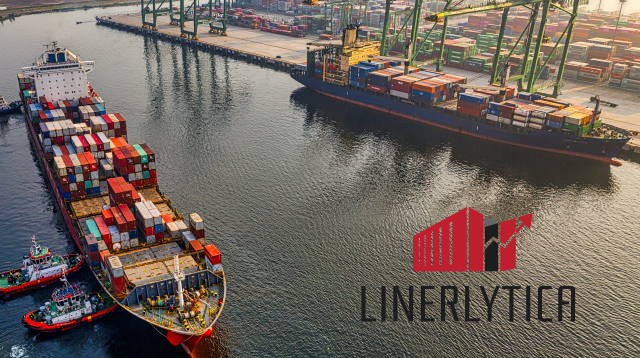 Russian container trade volumes rebound
Total container volumes handled at Russian ports rebounded sharply in the 2nd quarter of 2023 with a 33% yoy gain despite the ongoing sanctions against Russia. Far East gateway volumes through Vladivostok, Vostochny and Nakhodka grew by 39%, while volumes handled at the Black Sea gateway of Novorossiysk increased by 40%.
Although the Baltic gateways of St Petersburg, Ust-Luga and Kaliningrad rebounded strongly by 25% compared to a year ago, total Baltic volumes remain at less than half of their pre-Ukraine war levels with MSC currently the only main carrier to retain their Baltic feeder links to Russia. The rebound to the Baltic was driven by the launch of new Asia to Baltic Russia services, providing direct connections from China and India as well as transhipment services through UAE, Egypt and Turkey that had been launched in the past 6 months by FESCO, Reel Shipping, New New Shipping/Torgmoll, OVP, Safetrans, Mountain Air Shipping, Neco, Modul and Global Field Line.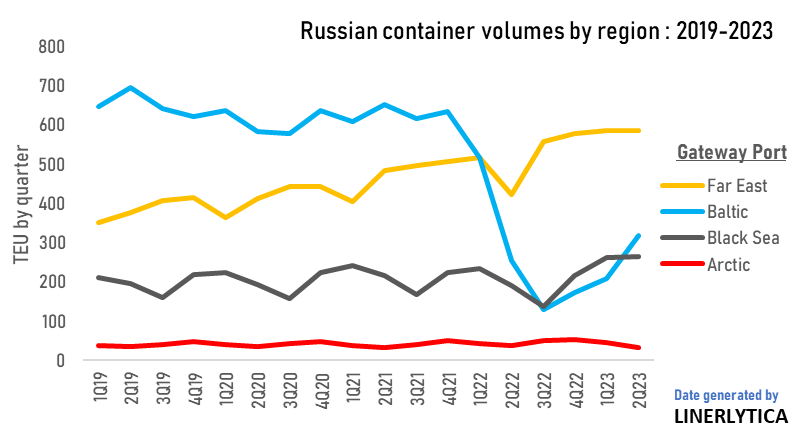 Notably, New New Shipping has launched the first of several planned voyages through the Northern Sea Route (NSR) with the departure of the 1,638 teu NEWNEW POLAR BEAR from St Petersburg on 7 July 2023 to China.
The growth of these new Russian services has helped to absorb more than 100 ships with a total capacity of over 200,000 teu since the end of last year.
Weekly/Monthly Market Pulse: US$1,500/US$1,800 per year